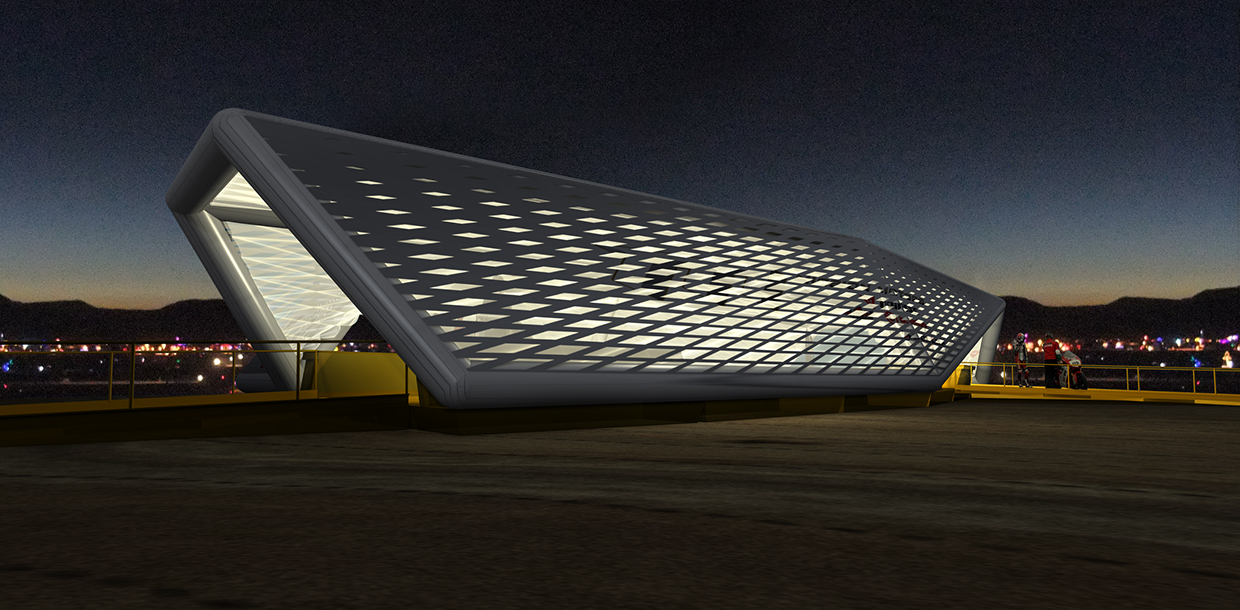 Pneumad Showroom/ Expo
The 20th-century automotive showroom paradigm requires substantial investment in facilities and in large inventories to fill display lots with critical mass. Under tenuous economic conditions, this model is no longer sustainable. Furthermore, sophisticated consumers would rather browse online, presenting a dilemma for auto manufacturers and dealers alike: how to entice potential buyers with the physical vehicles themselves, and present them in a favorable setting?
This prototype for a nomadic, pneumatic showroom rises to the challenge, creating an immersive environment for trade shows or expositions, race and performance events, temporary pop-up installations, phased dealership expansions, mobile service & customization centers, and traveling demo series. Sized for transport in a 24' panel truck, the tent can be erected in 4-6 hours and requires no site utilities, just two 200W solar generators to power lighting and regulate inflation.
The structure is comprised of an inflatable triangulated lattice, infilled with translucent "quilted" inflatable surfaces. Depending on the local climate, a variety of secondary skins can be installed over the quilt; variable perforations in these skins allow for light transmission on vertical surfaces, but provide shelter where necessary. Vented openings in the quilt allow warm air to escape, alleviating the greenhouse-effect common to inflatable structures. In particularly hot climates, cold water can be run across the quilt in two valleys at either end of the building for evaporative cooling. Modular decking -- with adjustable stanchions for leveling -- means installation over a variety of surfaces and slopes is possible.